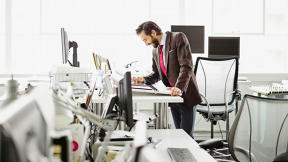 I'd been thinking about getting a standing desk for a long time, but I couldn't quite take the plunge.
It wasn't for lack of interest. I spend a lot of time at my desk, so I was anxious to figure out a new setup that didn't leave me seated for eight hours a day. What finally pushed me to commit was when one of my time-coaching clients told me her standing desk was helping her to be more productive. When I first started to research desk models, I imagined myself ending up with two separate workstations.
But soon after I finally started to research them in earnest, I found myself a little overwhelmed with all the options on the market. Here's how I managed to comb through everything before finally settling on a standing desk I love.